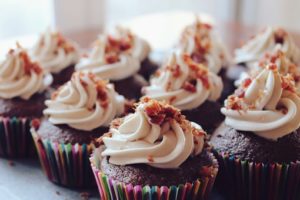 Crushcakes
One of the now famous Santa Barbara area cafes is Crushcakes (www.crushcakes.com). Crushcakes has three locations, one in Santa Barbara, one in Goleta and one in Carpinteria. Crushcakes sells gourmet cupcakes and also delicable meal choices for breakfast and lunch. The cafe is open at each location from 7:30 a.m. – 4:oo p.m., but they will continue selling coffee and cupcakes until 5:00 p.m. or until they sell out!
Ian Filippini enjoys going to Crushcakes because of the variety of options they have. If he just wants a coffee, no problem! If Ian Filippini wants a sweet treat of a cupcake, they've got his back! If he actually wants a meal, he can get that too! The variety at Crushcakes is what Ian Filippini really appreciates.
Some of the breakfast menu favorites of Ian Filippini at Crushcakes are the Happy Pig, the Cafe Skillet and the Maple Melt. They have super fun and creative menu options, and they also have traditional favorites. For lunch, Ian Filippini like the Ensalada de Amor, the BLTA or the Tree Hugger panini.
Check out www.ian1031.com and www.ianfilippini.net to learn more about Ian Filippini.