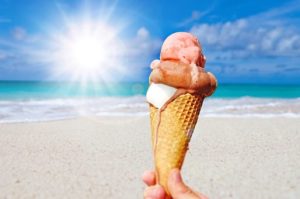 Rori's Ice Cream
Summer is coming and that means the heat is coming! Even in our lovely coastal city of Santa Barbara, summer here can get hot and that means we all need to cool down. What a better way to cool down than to grab some refreshing ice cream! Ian Filippini's favorite go to ice cream place in town is Rori's Ice Cream (http://www.rorisartisanalcreamery.com/).
Rori's Ice Cream is made in small batches and with organic ingredients, which means that the quality is top notch! Rori's flavors are also top notch and many of their flavor combinations cannot be found anywhere else. Cinnamon Toast Cereal Crunch, Mint Patty, Salted Caramel and Lemon Curd are among the many different flavors that can be found at Rori's.
Ian Filippini loves the ice cream at Rori's, but he also loves that it is run by and individual person, rather than a large corporation. Desipte this fact, Rori's has 5 different locations. You can find Rori's ice cream in Montecito, Santa Barbara, Carpinteria, Santa Monica and West Hollywood! You can find more on Ian Filippini at http://www.ianfilippini.com.